Home Energy Retrofits and Performance Upgrades
Most Old and Even
NEW

Homes in Connecticut and New York Can Benefit from Energy and Performance-Related Upgrades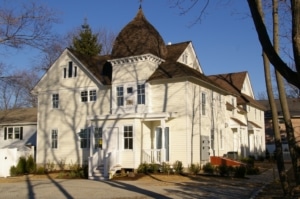 Most existing homes, even recently built homes, suffer from a variety of performance-related problems that dramatically affect energy efficiency. Low energy efficiency means you have to pay more for energy year after year.
These same problems and others also negatively impact a home's indoor air quality, comfort, safety, durability, and increase maintenance costs. These issues apply to both older and unfortunately most new homes as well. The cause is common and conventional construction practices do not account for uncontrolled air, heat, and moisture flows that lie at the root of virtually all performance defects.
In fact, many builders don't even realize that the way they build and renovate homes not only deprives the owners of performance and energy savings, but makes the homes less comfortable, and less healthy to live in.
Homes with these issues will also be less attractive to home buyers in the future as building codes become more strict and the expectations of these buyers are raised.
BPC Green Builders Can Make Your Existing Home Better in Many Ways
When BPC undertakes an energy and performance upgrade renovation project, we always look to remedy these defects. And because of the way we renovate, we prepare the home for many more years of service while meeting the same performance standards that we expect from our new homes.
The work that BPC recommends typically involves repairs or improvements to the following areas of your home:

Air leakage through the exterior envelope – Uncontrolled air leakage is the most common construction defect. Sealing the envelope is often the easiest and cheapest remedial action and can produce dramatic reductions in heat loss and other performance improvements.

Inadequate and poorly installed insulation – Virtually all existing homes have too little insulation, or the insulation that they have is not performing well. Insulation levels and effectiveness can usually be raised by installing new insulation in the basement and attic, and into existing framing cavities or over the interior or exterior surface of the outside walls. There are many good insulation products and ways to insulate. We always look for the most cost efficient strategy, which varies according to the design and construction of the home.

Oversized and poorly installed heating, cooling and hot water systems – Most existing homes have oversized and/or duplicate systems. The reason is that the exterior thermal envelopes are poorly designed and constructed, which means that heat loss and gain is poorly controlled, which leads mechanical contractors to install oversized systems capable of compensating for these thermal defects. Additionally, often the mechanical contractors do not perform basic design calculations and utilize poor installation practices. Resolving these problems involves upgrading the thermal envelope followed by careful design calculations to right-size the new systems, followed by the installation of smaller, high efficiency systems.

Moisture issues involving the basement, outside walls, and the attic – Ground moisture can find its way into basements via cracks and capillarity. Rain can find its way into walls and roofs via poorly designed flashing details and inadequate drainage pathways. Interior water vapor generated by showers, cooking, and breathing can enter the exterior walls and the roof via uncontrolled air leakage. Resolving these problems involves providing drainage pathways for both ground moisture and precipitation and sealing the air leaks in the thermal envelope.

Windows that allow air leakage and excessive heat loss – Older windows usually allow excessive air leakage, and both the window frames and glass allow excessive heat loss. There are new windows and doors on the market that can greatly improve performance, and the price for high performance windows continues to drop.

Inadequate or non-existent ventilation (fresh air) for the occupants – Existing homes usually have high levels of air leakage and get much more ventilation than needed during the winter, leading to high energy bills and bone-dry air. Interestingly, these same homes often have insufficient ventilation during the summer months when windows are closed and air conditioning is operating. The solution is to first eliminate the air leakage and then provide mechanical ventilation that provides fresh, filtered air to every room in the house. Energy recovery ventilation systems are increasingly common and are usually cost-effective to install and operate.

Air pressure differences that compromise combustion safety – Most existing homes have furnaces, boilers, hot water heaters, gas stoves, wood stoves and fireplaces that require air from the house for combustion. They all depend upon the pressure relationship between the air in the house and outside air to function properly. This is dangerous and can lead to fires and carbon monoxide poisoning. The solution is to air-seal the thermal envelope to control the air pressure relationship (between indoor and outdoor air) and to install equipment that isolates air for combustion from air in the house.
Ideal Times for Energy and Performance Upgrades
There are a lot of things you can do to improve the energy efficiency and performance of your home. Window replacement, caulking, sealing, installing higher efficiency heating and cooling, sealing ventilation duct work (in some areas of your home) can be done at almost any time.
However, it is often most cost effective to do some types of upgrades in conjunction with other home renovation projects. Major improvements to your home's efficiency and energy performance require that your home's thermal envelope be properly sealed and insulated. This is most cost effectively done when you are doing a whole house renovation or a complete exterior renovation. This is also true for the best time to install a high-efficiency central heating, cooling and ventilation system.
For a more detailed discussion of the building science and green building strategies we use at BPC, please click on the following link to open a PDF document: Building Science and Performance Benefits.