BPC Green Builders is proud to announce that we are the first winner of the town of Westport's Green Task Force "Building Award for Achievement in Sustainable Design and Construction".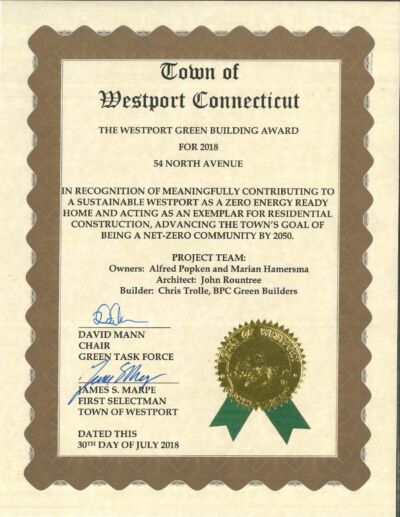 The award program is part of a larger program by Westport's Building Dept. for recognizing projects in Westport that have made or are making important contributions to sustainability are helping the town achieve its objective of being a Net Zero Community by or before 2050.
The project BPC won the award for is a single family, 5-bedroom, 7,900 square foot home on North Avenue. the home was built by BPC under the direction of BPC co-founder and principal Chris Trolle. The architect who designed the project was John Rountree. The home was designed and built to be a near Net Zero Energy home. It is certified as a US DOE, Zero Energy Ready Home and as a US EPA Energy Star®, Waster Sense®, and Indoor Air Quality Plus® home.
The home's air-tight thermal envelope was constructed using double-wall framing which allowed for 11-1/2" of insulation, vs 4″ in typical homes. This amounts to about 300% more insulation R-value than that of a new home built to meet the minimum building code requirements. The home takes advantage of clean, renewable passive and active solar energy (solar panels). The home has high-performance air source heat pumps for heating, cooling, and hot water generation. with LED lighting is used throughout the house, based on the first year's energy bills, the home's energy performance is, as expected, very close to net zero. Adding a few more solar panels in the future would allow the home to achieve net-zero energy use.
To provide superior indoor air quality and reduce energy use, an Energy Recovery Ventilation system or ERV was built into the home as are all homes BPC builds today. The air handling system also includes high-performance air filtering systems toghter with the ERV assure the indoor air is both fresh and filtered. This energy recovery ventilation, air filtering, and other green home components make the home much healthier to live in and more dust-free than conventionally built homes.