A home is an investment in more ways than one. Not only is it one of the largest purchases a person can make, it also serves as the backdrop for your life and every moment that you spend with loved ones, raising a family, or achieving your goals.
Green homes are environmentally-responsible, healthy, comfortable, and durable, making them the perfect choice for every family. But there's a lot more to creating a green home in Western Connecticut, and Westchester County than simply using green materials.
If you're curious about the concept of green homes, wondering how green homes differ from conventional homes, or deciding if building a custom green home would be right for you at some point in the future, you've come to the right place! Read on to learn more about these impressive buildings and find out how to build your own.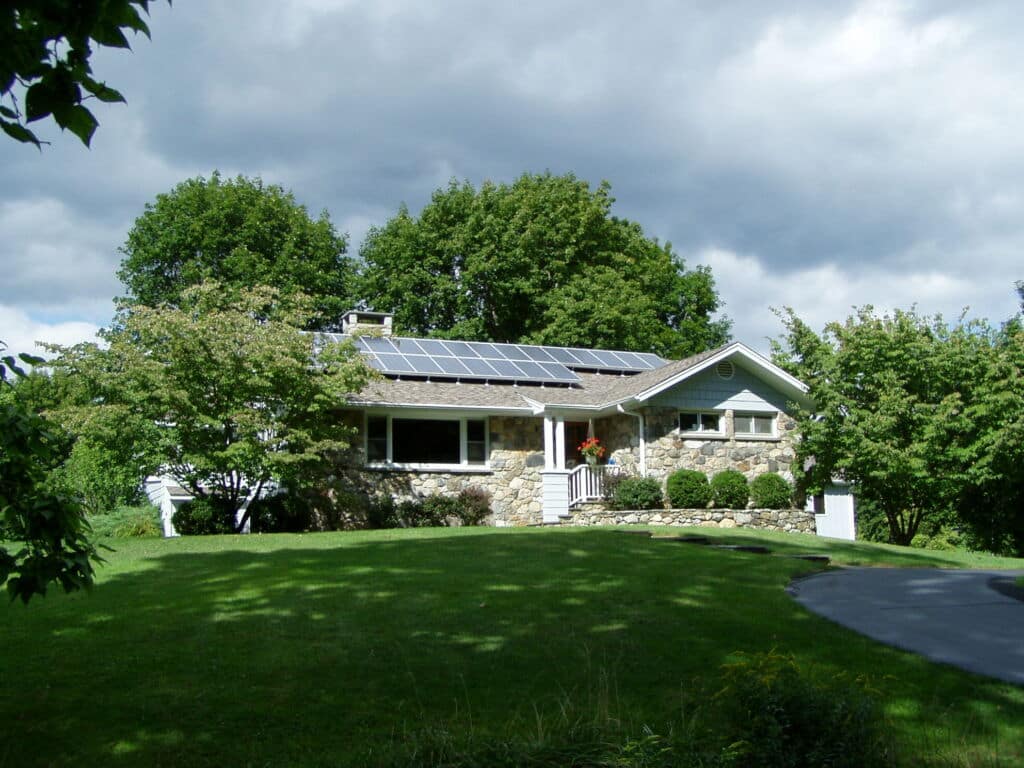 What is a Green Home?
A green home is a house built to satisfy one or more Green Building Standards.
Green homes all fall somewhere on a spectrum. Building standards on the lighter end of the spectrum focus on reducing energy consumption and waste, while others on the more aggressive side will achieve exceptional levels of efficiency that can even result in an energy positive home—a structure that produces more energy than it requires.
At a minimum, every home built by BPC meets or exceeds the requirements for the following:
Additional standards that BPC builds to include:
Passive House Institute US (PHIUS)

LEED for Homes

WaterSense

National Green Building Standards

Net Zero Energy Home

Positive Energy Home

Sustainability Building Principles

American Lung Association Health House
LEARN MORE ABOUT GREEN BUILDING CERTIFICATION PROGRAMS
Green homes offer measurable value and results. A green home will always be:
EXPLORE MORE BENEFITS OF NEW, CUSTOM & CERTIFIED GREEN HOMES
What Goes Into Building a Green Home?
There are many steps to building a green home, and each part of the process can be different than building a conventional home. An experienced, certified green builder will be able to walk you through every step of the process, explaining unfamiliar green building terms and answering any questions you might have throughout.
FIND OUT MORE ABOUT GREEN, SUSTAINABLY BUILT HOMES
What Do I Need To Know About Building a Green Home?
One of the most important things to look out for when preparing to build a truly green home is greenwashing. As green buildings have become more desirable, some builders now claim to build green homes simply because they use ENERGY STAR® systems or solar, which in and of themselves, don't make a home green.
Every aspect of the building process matters when creating a green home, from the building envelope, to the insulation, framing, home placement on your land, and more. Protect your investment by taking time to ask builders what makes their homes green, review their video and photo galleries, and comb through their reviews and testimonials. A builder who's excited about your project and your green goals will be enthusiastic about discussing their work with you.
READ MORE ABOUT GREEN BUILDING
What Should You Look For in a Green Builder?
A reputable custom green home builder will use only the best green building practices to create healthy, high-quality, and energy efficient homes for New York and Connecticut families.
We recommend looking for a team of experts who is committed to:
Collaboration with

architects

and clients alike

Honoring your needs and preferences

And helping you understand each step of the process
Check Out These Resources to Learn More!