Renovating, Retrofitting, and Transforming Existing Homes into Exceptional Green Homes
Better Built Deep Green Home Renovations by BPC Green Builders
BPC serves parts of Fairfield, Litchfield, and New Haven Counties, Connecticut and Westchester, Putnam, and Dutchess Counties, New York

BPC Green Builders Converts Existing Homes into Certified Green Homes
BPC Green Builders transforms existing homes into homes that can be certified to meet rigorous green building industry standards. The industry term for this process is Deep Green Retrofitting. It is most cost-effectively done as part of a whole house renovation or major remodeling project.
The homes BPC renovates and remodels are sustainable and offer numerous benefits that only green homes can offer, including exceptional energy efficiency, unsurpassed comfort, lower cost of ownership, and healthy environments.
Can Your Home be Converted into a Green Home?
Most, but not all, existing homes can be converted into green homes that can be certified as meeting one or more established residential green building standards.
To find out if your home is a good candidate, the first step is to have BPC evaluate it. BPC can determine if your home can be converted into a green home and what would be involved.
BPC offers this initial evaluation as a complimentary service for homeowners serious about a green home renovation.
The primary requirement for your home to be a good candidate for a green home renovation is if the home's "Envelope" can be reconfigured to meet one or more of the green certification standards.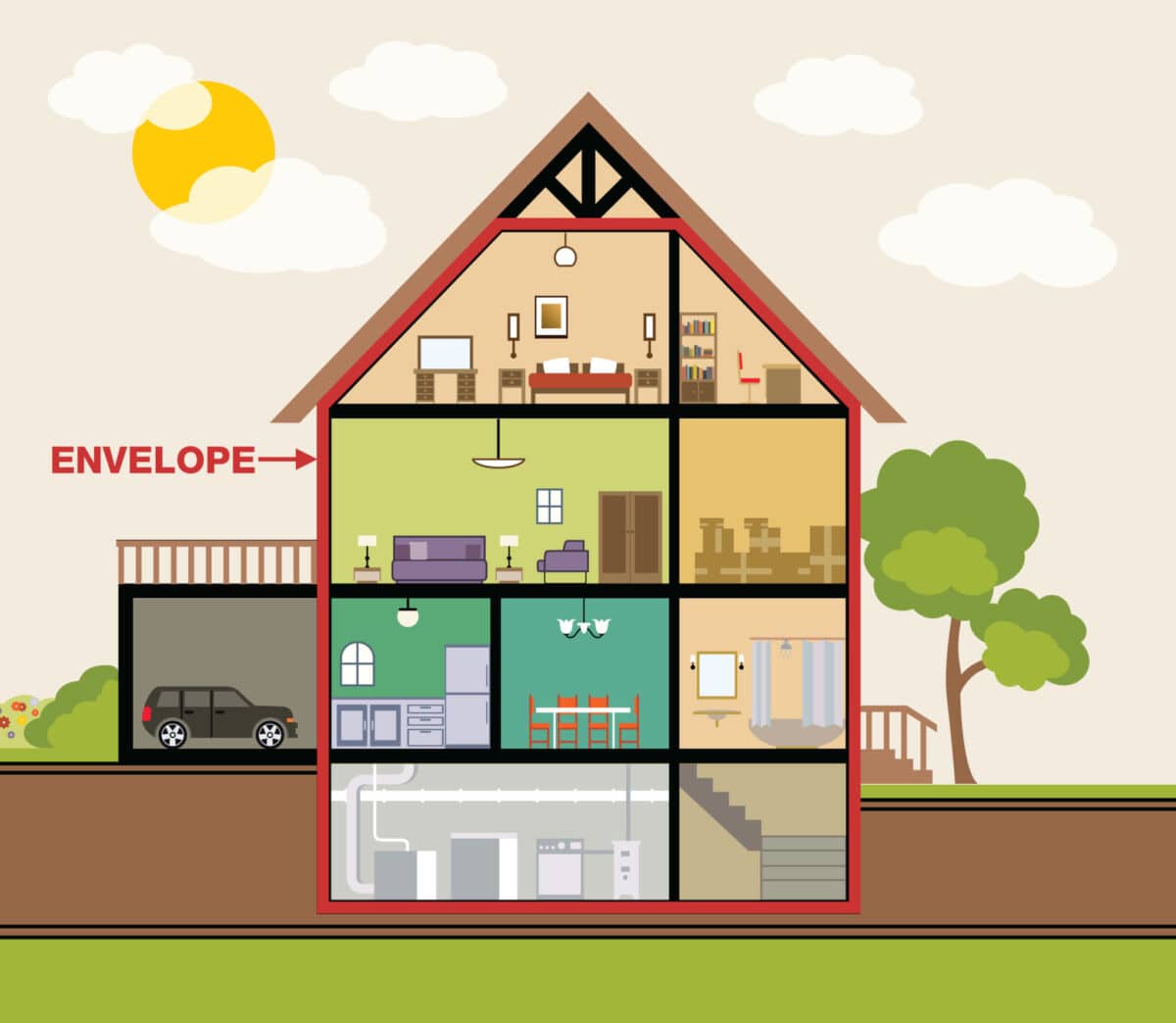 Your home's "envelope" includes the walls, floors, foundation, and ceilings that separate your home's conditioned (heated and cooled) areas from the outside or from the areas of your home that are not conditioned, such as a garage.
Once we have assessed your home's green potential, we will discuss with you the type and magnitude of renovations and green retrofitting needed to meet your goals for energy efficiency, sustainability, health, air quality, durability, cost, and more. We also discuss any interior reconfiguration or additions you may wish to include as part of the green renovation retrofit and whole-house renovation.
Renovating Homes with Deep Green Retrofits is a Team Effort
For almost any type of whole house renovation, and more so for one that includes a deep green retrofit, it's essential for the homeowner, BPC, and the project's architect to work as a team from the very start of the project.
If you don't already have an architect, BPC can refer you to one or more architects we have worked with and believe will be a good fit for your project. If you have an architect, but they don't have experience designing green homes, BPC can provide the guidance they may need. In all cases, it is essential the entire team works together from the start.
Green Home Renovation Projects are Different from Traditional Whole House Renovations
From day one, the deep green energy retrofit work must be an integral part of the project. Certain elements that make a home green cannot be added as an afterthought. They must be part of the home renovation's DNA.
Converting a home into a green home always involves changes to the home's envelope; its heating, cooling, ventilation, and hot water systems; building materials and product selections for the project, and so on. There are also engineering, green building standards, and third-party verification aspects that are unique to green retrofit home conversions.
Renovating and Remodeling Your Home at the Same Time
Undertaking a deep green retrofit is the ideal time to renovate or remodel your entire home. The converse is also true. Undertaking a whole house renovation or remodel is the perfect time to convert your existing home into a green home. Because of overlaps in what is done for each, combining a whole house renovation and remodel with a deep green energy retrofit reduces costs, duplication of effort, waste, time, and money compared to doing them as two separate undertakings.
In other words, doing a green retrofit at the same time you renovate and remodel your whole home saves you time and money.
Deep Green Retrofit Renovations are Extra Green
Deep green retrofits follow the three prime directives of living green.
Reduce
Converting an existing home to a green home reduces the amount of new building material required to create a green home and reduces the amount of materials that would go into a landfill if you tore down the home and built a new one.
Reuse
With many existing homes, some amount of the existing home's materials can be reused within the scope of the green renovation and energy retrofit. Some elements of our existing home that you can't or don't want to reuse, like doors, hardware, windows, appliances, etc. can be donated to non-profits and other organizations. They then can reuse the materials for other building and renovation projects, or the materials can be sold to other homeowners or businesses to reuse in their own projects.
Recycle
When your existing home is renovated to be a green home, instead of unused material and construction waste going to the landfill, additional efforts are made to recycle anything recyclable.
Why Choose BPC Green Builders
Established in 1998, BPC was one of the first green builders in the area. Ever since BPC has been leading the way for other green home builders to follow.
All BPC homes meet or exceed established green building certification requirements, standards that far exceed local building codes for energy performance, durability, health, comfort, and in many other ways.
BPC brings together its deep appreciation of traditional quality craftsmanship with the latest green building and building science best practices.
BPC's Standards Are High and Award-Winning
All homes BPC builds or renovates today are at a minimum constructed to meet or exceed DOE's Zero Energy Ready Home (ZERH) certification standards. This standard is both higher and more comprehensive than the EPA's ENERGY STAR® home certification criteria. Green homes certified as ZERHs can achieve net-zero energy use with the installation of solar panels.
Many homes BPC builds are certified to meet even higher green building certification standards, including the most rigorous. For example, BPC has built homes certified as PHIUS Passive Houses, homes certified at the top Emerald tier of the National Green Building Standard, and homes certified at the top Platinum tier of the USGBC LEED for Homes program.
In addition to BPC homes earning rigorous green building certifications, many have also won local, regional, and national green home building industry awards.
What BPC Brings to the Table
Exceptional knowledge of green building's leading-edge strategies, materials, and best practices

An extensive, award-winning, 20 plus year track record of meeting and exceeding green building certification standards, including the highest ones

A no-cost evaluation of your existing home's potential for a green home retrofit

Providing you and your architect the information and guidance you need about green building certification standards so you can select the right green goals for your home

Architectural design, engineering, and other green building support before and during design and construction

Green home building material, systems, and product selections

Preliminary budget guidance, interim, and final budgeting

Computer modeling to confirm that your home renovation plans will meet the green performance standards desired

Project and construction planning and coordination

Green subcontractor selection and recommendations

Obtain municipal building permits and approvals

Construction and construction management

Managing all building inspections, green home verifications, and certifications

Warranty work if needed
The Bottom Line is Green
Having BPC Green Builders on the team that converts your existing home into a green home ensures you are getting the best home possible and the maximum benefits green homes can offer. Moreover, BPC guarantees your new green home will meet the home's planned and contracted performance and certification goals.
Some of BPC's Green Home Renovation and Green Retrofit Projects