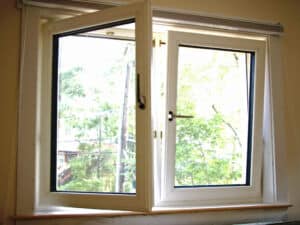 The Passive House criterion for energy used to heat and cool the house is so stringent that it cannot be met by homes that use anything but the best performing Windows & Doors (W&D). At this point in time, I am aware of only one small American company that makes W&D that meet the requirement for Climate Zone 5 (all of CT), whereas there are numerous European companies that make such products.
I purchased W&D made by Klearwall in Ireland, where the company is known as Munster Joinery and dominates that market. My windows have a "Tilt 'n Turn", two-way operation, which is typical of European windows. They tilt in from the top roughly 4" for ventilation, and they also open like an American casement window, only inwards, instead of outwards. The window locking mechanism is inside the frame and locks all four sides of the operable window sash, unlike an American window which typically locks in one location.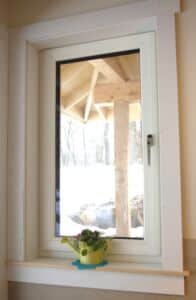 Klearwall offers three types of windows: the most expensive are made from wood with an aluminum exterior skin; slightly lower in cost are windows that are made entirely from aluminum; and their least expensive windows are made from PVC, or polyvinyl chloride – in other words, vinyl windows – which is what I purchased. In the US, we think of vinyl windows as low quality. My PVC windows perform every bit as well as Klearwall's more expensive W&D's. The PVC itself is of premium quality, and the frame walls are much thicker than those of an American vinyl window. Moreover, the window frame construction is multi-chambered, insulated to prevent heat loss, and reinforced with metal.
The glass in my windows is triple glazed, which means that there are three separate panes of 1/8" glass, with two interior ¾" cavities filled with argon for a total thickness of slightly more than 2". The argon gas fill works much better than air to reduce heat flow. Two of the panes have an applied low-E coating, which reflects some of the sun's heat to prevent overheating in the summer, as well as reflecting some of the indoor heat back into the room to reduce heat loss in the winter.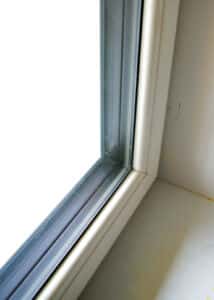 At this point in time, 99% of the American windows purchased for homes in the NE are double-glazed, which means that they have two separate panes of 1/8" glass, with one ½" cavity filled with argon, for a total thickness of ¾". One of the panes has an applied low-E coating. The few American triple-glazed windows on the market have a total glazing thickness of about 1".
The performance difference between typical European and typical American glazing is enormous. The U-value of my triple-glazing is 0.09, which converts to about R-11. The U-value of American double-glazing is about 0.25, or R-4; American triple glazing is about R6. Why the big difference? I will have the answer for you in my next posting, along with more interesting facts and figures about my windows and doors.