FOR IMMEDIATE RELEASE
Local Home Builder, BPC Green Builders, Recognized Fourth Time in Five Years by U.S. Department of Energy with 2017 Housing Innovation Award
Wilton CT, October 23, 2017 – Local custom home builder BPC Green Builders of Wilton, Connecticut, received national recognition for the fourth time in five years, by winning DOE's 2017 Housing Innovation Award in the category of Custom Homes (for Buyers).
The U.S. Department of Energy's Housing Innovation Awards recognize the nation's most innovative builders who are taking housing to the next level of energy efficiency and using DOE's Zero Energy Ready Home program.
In 2015, BPC Green Builders won the Housing Innovation Award's Grand Prize for all categories. BPC also won in 2013 and 2014 for custom homes. 2013 was the first year DOE's Housing Innovation Awards were given.
BPC Green Builders' 2017 award-winning home is in Clinton, NY. It is a three-bedroom, 2-1/2 bath, 3,600 square foot custom built high-performance, energy-efficient, green home that meets or exceeds all the requirements of DOE's Zero Energy Ready Home program.
One key aspect of a Zero Energy Ready Home is that the home can achieve "net zero" energy use if solar panels are installed. Net Zero means the solar panels generate sufficient surplus clean energy to offset any energy the home uses from the grid. The home's surplus energy then goes back into the power grid and offsets any energy the home uses from the electrical grid at night and on cloudy days when solar panels generate no power. When the home puts its surplus power back into the grid, an industry practice called "Net Metering" is essentially like the electric meter running backward, crediting the homeowner for the clean, renewable energy put back into the grid.
Since peak power use is during the day, when home solar panels produce surplus energy, a reduction in the need and cost for power companies to build more generating capacity can be achieved. This can result in less use of fossil fuels or nuclear energy, both of which are problematic environmentally.
Zero Energy Ready Home certification requirements exceed building code and Energy Star requirements, and must meet stringent requirements in these and other areas:
High energy-efficiency, so that by using a modest solar photovoltaic system, the home can achieve net zero energy use
Much lower energy costs when compared to non-Zero Energy Ready Homes
Healthful Indoor Air Quality by air filtration, humidity control, and reduced use of building materials that emit chemicals into the air
Ability to maintain comfortable temperature and humidity, operating quietly, and eliminating drafts
Durability of materials and systems, thereby reducing repair and replacement costs
Built to anticipate future building codes
Third party verification of quality and performance
Use of advanced building science and technology
Upon being notified that BPC Green Builders won this year's award, Michael Trolle, a founder and owner of BPC Green Builders, commented, "The DOE Housing Innovation Award is one of the most important awards given to green home builders. The award-winning homes demonstrate to the building industry what can be built using existing technology, materials, and methods. They further show that well-built, high-performance, energy-efficient, and environmentally responsible homes don't cost more to own than conventionally built new homes; they actually cost less."
Mr. Trolle also said, "In our area and many other parts of the country, the energy cost savings and savings from the homes needing less maintenance usually lead to the complete payback of any additional construction costs in 10 years or less. After that, the ongoing savings the homeowners get simply lower their cost of home ownership for the remaining life of the home. And our homes are also built to be much more durable than conventional homes, so the life of our homes is very long. So, imagine saving the total annual cost you pay for power each year, year after year after year."
Chris Trolle, the other founder and owner of BPC Green Builders said, "Housing Innovation Award winners are pushing the envelope and redefining the meaning of what a well-built home is." He then said, "Many of the Zero Energy Ready Home requirements of today will become standard building code requirements for all new homes in 10-20 years. We've seen this happen before. Most of the leading-edge green building practices of 15 years ago are now commonplace for all new home construction. And it's not because the practices are green. It's because the practices just make more sense and are better… period."
Michael Trolle further explained, "Within the Green Home Building industry there are numerous programs, each with its own standards and requirements. I like to say there are many shades of green building. Examples of these shades are PHIUS's Passive House and USGBC's LEED for Homes. We've built homes that have been certified to meet both of these programs' standards.
"Each of these programs is targeted to achieve slightly different objectives, such as energy efficiency, air quality, comfort, durability, sustainability, and so on. Based on what many in the industry are seeing, DOE's Zero Energy Ready Home standards seem to meet the needs of the majority of today's well-informed homeowners, whether or not they are interested in other aspects of green building and sustainability. The fact is that a Zero Energy Ready Home is simply a much better home that anybody and everybody would enjoy. It's a shame not more homeowners building new homes know about Zero Energy Ready homes and what they offer."
Press Contact:
David Alpert
Continuum Marketing Group LLC
Phone: 703-759-0106 ext. 101
Email: David@cmg-smart.com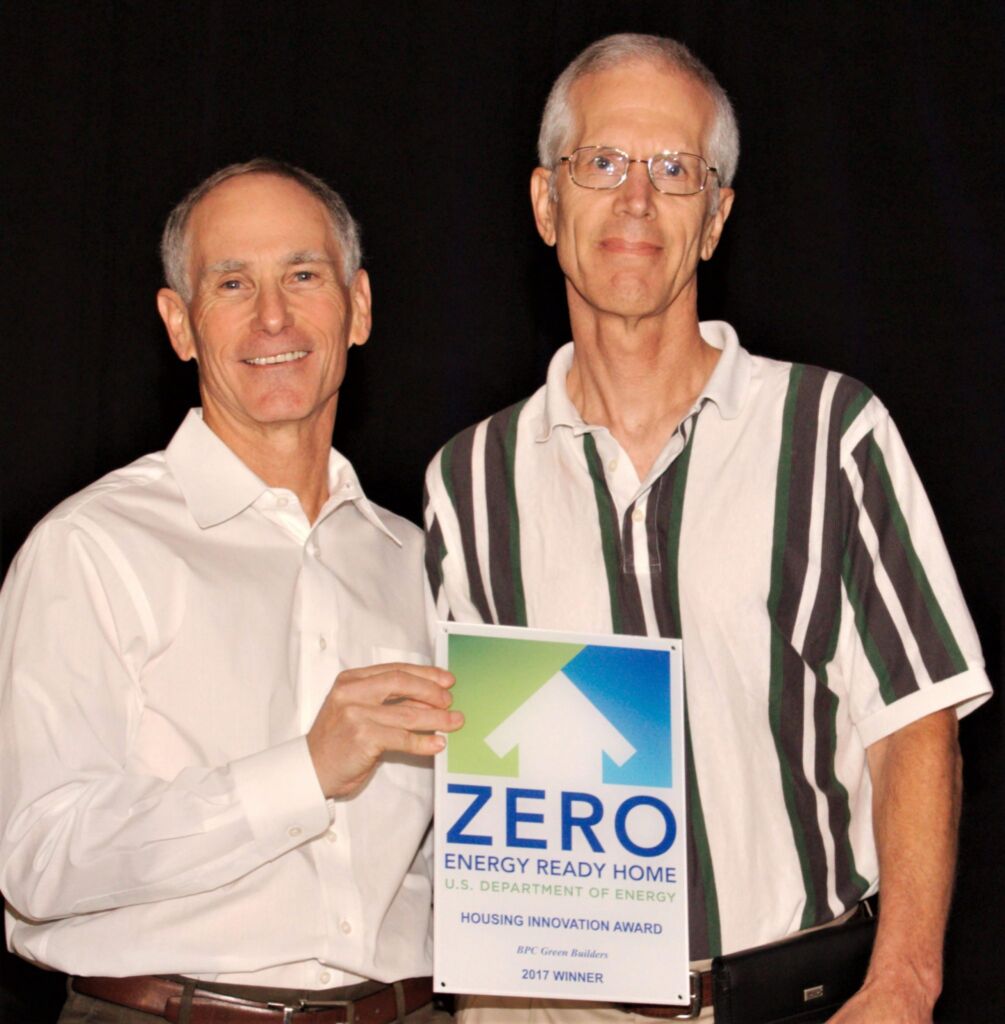 Sam Rashkin, Chief Architect of the Building Technologies Office in the Office of Energy Efficiency and Renewable Energy (on left) presenting the 2017 Housing Innovation Award to BPC Green Builders' Mike Trolle (on right).
About the Company:
BPC Green Builders, Inc. is an award-winning, certified green custom home builder specializing exclusively in building and renovating high-performance green custom homes. BPC's service area includes western Connecticut and adjacent counties in New York. Founded in 1998 by brothers Michael Trolle and Chris Trolle, BPC is one of Connecticut's first green builders.
BPC homes have met or exceeded standards of, and/or have been certified as meeting, EPA Energy Star homes, DOE Zero Ready Energy Homes, Net Zero homes, High-Performance homes, PHIUS Passive House homes, NAHB Green Building certification of Emerald (the highest level of certification for this standard), and USGBC LEED for Homes including LEED Certified, LEED Silver, LEED Gold, and LEED Platinum, the highest level of LEED certifications.