FOR IMMEDIATE RELEASE
Owners of Net Zero Energy Home Release Free E-Book About Energy-Efficient Homes
"Our home is so energy efficient, we generate more energy than we pull from the electric grid on a yearly basis."
Cyril and Karen Cabral, Homeowners and Authors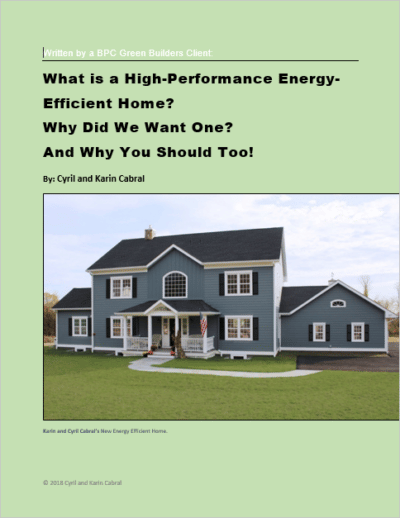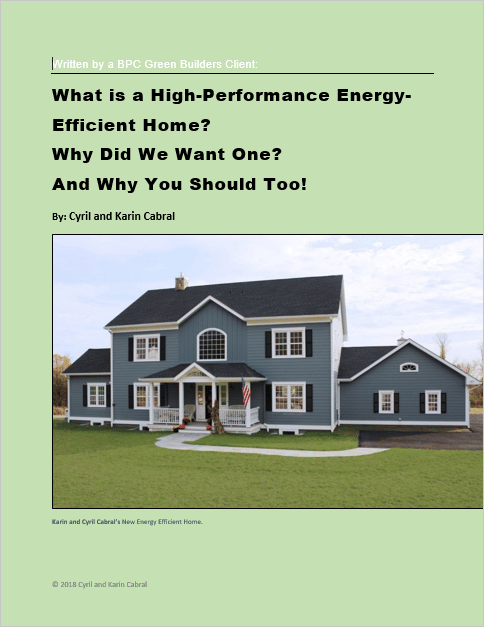 Wilton, CT Febuary 5, 2018 BPC Green Builders, a leader in building green, energy-efficient homes, announces the release of a free downloadable e-book written by one of BPC's clients, Cyril and Karen Cabral. The book's title is "What is a High-Performance Energy-Efficient Home? Why Do We Want One? And Why You Should Too!" and was written for anyone interested in what goes into a net zero energy home.
With a goal of lowering energy use and costs, as well as lowering the cost of ownership for their new home, the Cabral's home was designed and built to greatly reduce the energy waste that most older and even new homes have. It was the Cabral's excitement about designing, building and now living in a net zero energy home that converted them from homeowners interested in an energy-efficient home to evangelists for energy-efficient home building.
The e-book was written by the Cabrals to help educate anyone thinking of building a new home about what is involved in, and the benefits of, making a new home energy-efficient to the point of being a net zero energy home.
The e-book takes an in-depth look at the design, systems and construction methods that went into creating Cyril and Karen's new home. Key aspects of the e-book touch on the critical distinction between energy usage and energy generation. Complete with charts, images, scientific and financial data, the book goes into explicit detail on major design considerations.
The Cabrals provide an in-depth comparison between traditional home design techniques, today's new home approaches and the high-performance design approach required for optimal energy efficiency such as they used. Their book provides comparisons of energy use and energy costs for older homes, new homes and high performance energy-efficient homes like theirs.
The e-book depicts their journey into efficient and clean energy generation through the use of passive solar heating, in addition to their use of active solar energy by using photovoltaic solar, panels. The couple provides a detailed explanation of how they use the sun's energy and the home's energy-efficient design to maintain their home's indoor temperature to what they desire. In their e-book, Cyril and Karen went so far as to provide a financial breakdown of their energy savings and the payback periods on their energy-efficient investment.
The Cabrals, who authored this e-book, are currently enjoying their second year in their new net zero energy home in Westchester County, New York.
As the Cabral's custom home builder, BPC Green Builders is facilitating the free distribution of the Cabral's informative and thought-provoking e-book. Anyone interested in building an energy-efficient, net zero energy home can download a free copy at www.bpcgreenbuilders.com/ebook-cabral.
BPC Green Builders Inc. builds green high-performance homes in Western Connecticut and the adjacent counties in New York. BPC, is wholly dedicated to the design and construction of beautiful homes that benefit both homeowners and the environment. For more information about BPC, please visit www.bpcgreenbuilders.com
Contact:
(BPC Green Builders has agreed to be the contact for the Cabal's for this book release)
David Alpert for BPC Green Builders
david@cmg-smart.com 703-759-0106 ext.101
BPC Green Builders Inc. (Connecticut)
BPC Green Builders of New York, Inc. (New York)
mike@bpcgb.com
(203) 563-9909
###
Press Contact:
David Alpert
Continuum Marketing Group LLC
Phone: 703-759-0106 ext. 101
Email: David@cmg-smart.com
About the Company:
BPC Green Builders, Inc. is an award-winning, certified green custom home builder specializing exclusively in building and renovating high-performance green custom homes. BPC's service area includes western Connecticut and adjacent counties in New York. Founded in 1998 by brothers Michael Trolle and Chris Trolle, BPC is one of Connecticut's first green builders.
BPC homes have met or exceeded standards of, and/or have been certified as meeting, EPA Energy Star homes, DOE Zero Ready Energy Homes, Net Zero homes, High-Performance homes, PHIUS Passive House homes, NAHB Green Building certification of Emerald (the highest level of certification for this standard), and USGBC LEED for Homes including LEED Certified, LEED Silver, LEED Gold, and LEED Platinum, the highest level of LEED certifications.