New Online Glossary of Green Building Terms for Consumers Published by BPC Green Builders
BPC Green Builders Believes the New Edition to be the Most Comprehensive Green Building Glossary Online
Wilton, CT October 23, 2019 – BPC Green Builders, Inc. announces the online publication of a new comprehensive Glossary of Green Building Terms targeted for use by consumers, home buyers, and others interested in green building and green homes.
The new glossary contains over 300 definitions and 70 illustrations and photos. Out of necessity, some definitions contain technical information. However, the glossary was written for those without technical training. The glossary provides both definitions and other information BPC believes is important for consumers and home buyers to know.
Based on research done by BPC's glossary editors, BPC believes its new illustrated glossary is the most comprehensive green building term glossary online, at least ones written in English.
BPC plans to release a PDF of the glossary soon. Both the online and PDF glossary have more definitions and graphics in the works, and the glossary will be updated periodically. BPC will announce when the PDF version of the glossary is available to download and when major updates to both are released.
The glossary definitions are based on online research, and the glossary editors' and BPC's knowledge of green building terms. The glossary also includes links to 25 of the online sources our editors used when creating the glossary.
BPC seeks feedback from consumers and green building professionals about the glossary, the definitions, terms that they think should be added, and any other comments. Comments should be sent to glossary@bpcgb.com.
Select images from BPC's Green Glossary below. Others available.
BPC Green Builders, Inc. and BPC Green Builders of New York, Inc. operate under the trade name BPC Green Builders. BPC is an award-winning custom green home builder located in Wilton, CT. BPC serves parts of western Connecticut and areas in the adjacent counties of NY. Founded in 1998 by brothers Mike and Chris Trolle, BPC Green Builders is one of the very first builders in Connecticut to specialize in high performance, sustainable, green homes.
For more information visit BPCgreenbuilders.com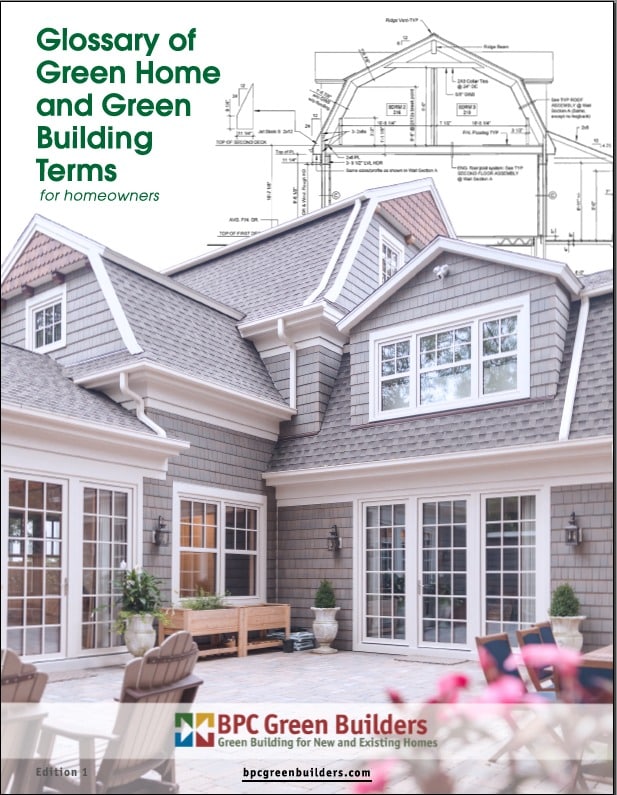 Contact:
David Alpert for BPC Green Builders
david@cmg-smart.com
703-759-0106 ext.101
Mike Trolle, Principal & Co-founder
BPC Green Builders Inc.
mike@bpcgb.com
(203) 563-9909