This three-bedroom, two-bath home, designed and built to Passive House standards*, and a Housing Innovation Award winner for 2021, is located on a gently sloping hill adjacent to a conservation area in North Stamford. The home was designed by the owner, an architect, for single-floor living.
The home was certified as a US DOE Zero Energy Ready Home. Without PV solar panels, the home has a HERS score of 34. In the near future, the homeowner intends to add solar panels which will lower the HERS score from 34 to 0. At that point, the home will become a Net Zero Energy Home.
*The home was designed and built to conform to Passive House certification standards but the homeowner opted to forgo Passive House Certification.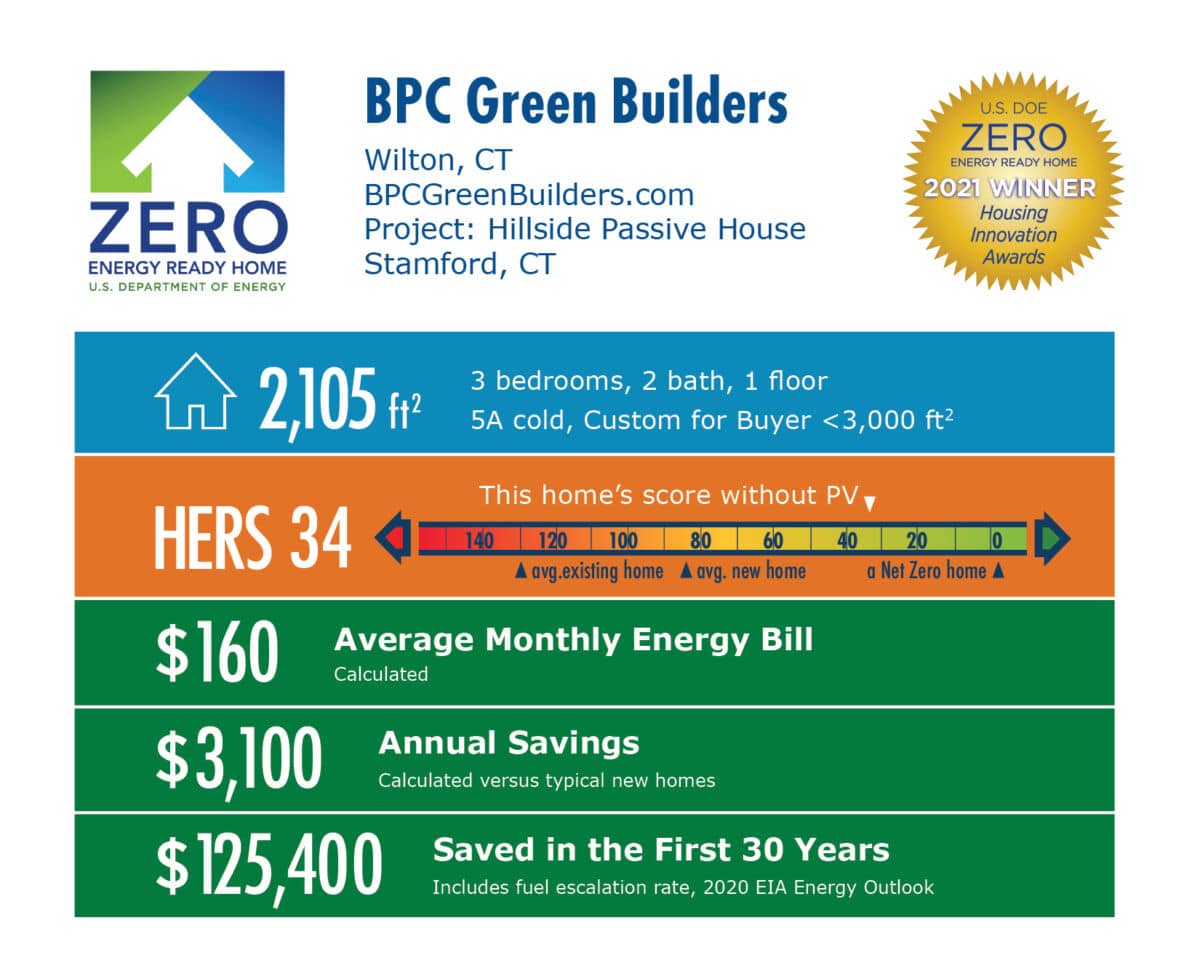 View this home's case study by the architect/homeowner, Laurence Marner, and one prepared by BPC's project manager for the project, Albert Jensen-Moulton and Laurence Marner on the BPC blog.
Type: New Construction, Custom Green Home, Passive House, Zero Energy Ready Home, Net Zero Energy Home




Special Features:
The open kitchen/dining/living area has a large expanse of glass on the south and west sides
Exposed glulam wood beams carry through from the ceiling of the living area to sun shading on the exterior
Half of the house is supported by steel columns where the lot slopes down to the woods, so that the living room and master bedroom are at "treehouse" level
All four walls and the floor of the master bath are finished with 5' x 10' large-format tile
Both bathrooms feature "solar tubes" that bring sunlight down through the roof
Green Building Approaches:
The floor deck is built with 16" open web trusses filled with cellulose, plus a continuous 3" layer of mineral wool on the bottom side (R-65 total)
12" engineered joists hang vertically on the exterior 2×6 walls, for a total wall thickness of 18" filled with dense dense-pack cellulose (R-62)
Slightly tapered open-web trusses with an average depth of 28" from the roof, which is also filled with dense-pack cellulose (R-98)
Acrylic sheathing tapes used at all sheathing intersections to achieve excellent airtightness of 0.75 ACH50
Orientation/design optimizes passive wintertime solar energy gains while limiting summertime heat gains
European triple-glazed aluminum-clad doors and tilt/turn windows with u-values of 0.16 (R-6.25)
A single ducted air-source heat pump system heats and cools the entire house
A high-efficiency CO2-based split heat pump provides domestic hot water
Independent ducted ventilation system with energy recovery
A solar photovoltaic system will be added in the near future which is expected to result in net zero performance
100% LED lighting throughout
Low-flow water fixtures throughout