Green Building and Healthy Home Standards
BPC Builds and Renovates Homes to Meet or Exceed the Green Building and Healthy Home Standards Desired by Our Clients in Connecticut and New York.
EPA ENERGY STAR Certification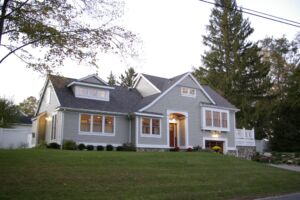 ENERGY STAR is a voluntary program developed by the U.S. Environmental Protection Agency (EPA) to promote energy efficiency for businesses and consumers. ENERGY STAR has sets of standards for certifying appliances, homes, commercial buildings, and industrial facilities. ENERGY STAR is now a basic Green Building Standard but not the highest.
One of the requirements for a house to earn the ENERGY STAR label is that it must pass inspection based on separate checklists. These checklists include building science practices focused on thermal insulation, heating, air conditioning, ventilation, and water management.
DOE Zero Energy Ready Home Certification
Zero Energy Ready Home was previously called DOE Challenge Home
The U.S. Department of Energy (DOE) established a system of certifications for home energy efficiency called the DOE Zero Energy Ready Home. The general aim is for a home to generate as much energy as it uses, if not more. This is done partly by reducing the amount of energy used and by installing energy generating systems such as solar panels. Among the different green home labels, Zero Energy Ready Home has comparatively rigorous requirements. Compliance with ENERGY STAR for Homes specifications is only the first of Zero Energy Ready Home's many requirements. A home verified as Zero Energy Ready is at least 40-50% more energy efficient than a typical new home.
LEED Certification for Homes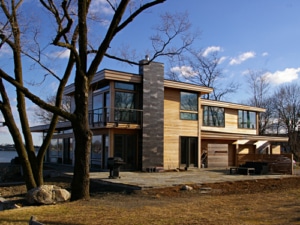 LEED (Leadership in Energy & Environmental Design) is a certification program offered by the US Green Building Council that establishes criteria for all aspects of a home's design and construction that could contribute to its sustainability. The program includes plan review, an extensive verification process, and 3rd party inspections. During the certification process, a project will earn a number of points based on which prerequisites it meets. The number of points determines the level of a project's LEED certification. The four levels are:
LEED for Homes Certified (40-49 points)

LEED for Homes Silver Certified (50-59 points)

LEED for Homes Gold Certified (60-79 points)

LEED for Homes Platinum Certified (80+ points)
See photos of LEED certified homes by BPC

Passive House/PHIUS (Passivhaus)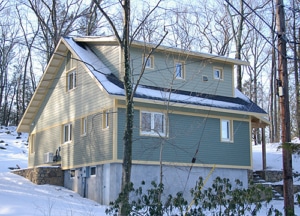 "Passive building" is a collection of designs and principles used to increase energy efficiency in heating/cooling as much as possible. Like LEED, Passive House standards are among the most rigorous in Green Building.
Passive building principles focus on things like insulation, heat balance, solar gain, and the building envelope. The Passive House Institute
[of the] US (PHIUS) is an organization in the United States committed to teaching, advancing, and certifying passive building principles. PHIUS standards are more rigorous than non-PHIUS Passive House (a name used by another organization) standards. PHIUS Standards are updated from year to year in order to represent the latest findings in building science.
"Passivhaus" is the European (German, specifically) name for Passive House and its standards are more similar to those of PHIUS than those of Passive House standards in general.
See photos of Passive House certified homes by BPC
Net Zero Homes
A Net Zero Home is a home that generates as much energy as it uses. A less often used term is a "net positive" home. This is a home that generates MORE energy than it uses. Depending on your power company and area regulations, this excess power generated can go back into the grid, offsetting the cost of the energy you buy. In some areas, you can generate income from being a net positive home because power companies in some places are required to pay you for the energy you put back into the system.
Technically speaking, a "net zero home" is not a Green Building standard nor a specific program or certification. Net Zero Home is a definition or descriptor of what a home accomplishes. Zero Energy Ready Homes and Passive House homes as well as others can be built so that they are also Net Zero Homes.
Sustainability and Sustainable Building/Homes
There are no industry standards or certifications specifically about sustainability. LEED for Homes comes the closest. However the concept of sustainability, relative to homes, is important. It also has several aspects to it. Some have to do with energy use and energy sources. Other aspects have to do with whether the home is built from materials that do not use up non-renewable or hard-to-renew resources.
Relative to energy, sustainability usually refers to homes that greatly reduce or do not use carbon-based fuels such as gas, oil, and coal. Nuclear energy is not usually considered sustainable because of storage of spent fuel and because of the potential environmental damage a nuclear plant accident can cause. Sustainable energy is preferably energy produced by clean renewable or unlimited sources such as wind, solar voltaic, solar thermal, geothermal, hydro, etc. Sustainable energy is also energy that will not increase in cost over time because of dwindling supplies or geopolitical conflict that can suddenly cut supplies.
Relative to using sustainable building materials, a home built using this aspect of sustainability principles will not use endangered or slow growing materials like certain types of trees. Teak, redwood, oak, are examples. They will not use materials that are harvested in a way harmful to the environment such as clear cutting or quarrying in a way that damages areas around the quarry. Lumber used in a sustainable home should be from responsibly farmed and harvested trees where once a tree is removed another one is planted, or fast growing woods such as bamboo.
American Lung Association Health House*
Health House is a program from the American Lung Association designed to promote and certify healthy building practices. Being an ALA program, the Health House guidelines focus largely on the prevention of harmful airborne factors such as radon, mold, chemical fumes, smoke, and allergens.
*The Health House program is currently managed by the upper midwest division of the ALA and now normally certifies only in certain midwestern states. They no longer certify homes outside of their area.
However, BPC Green Builders has the unique distinction of having built an ALA Certified Health House in Connecticut. And, BPC can still build homes that meet the Health House standards.
See photos of Health House certified homes by BPC