BPC Works with Homeowners' Architects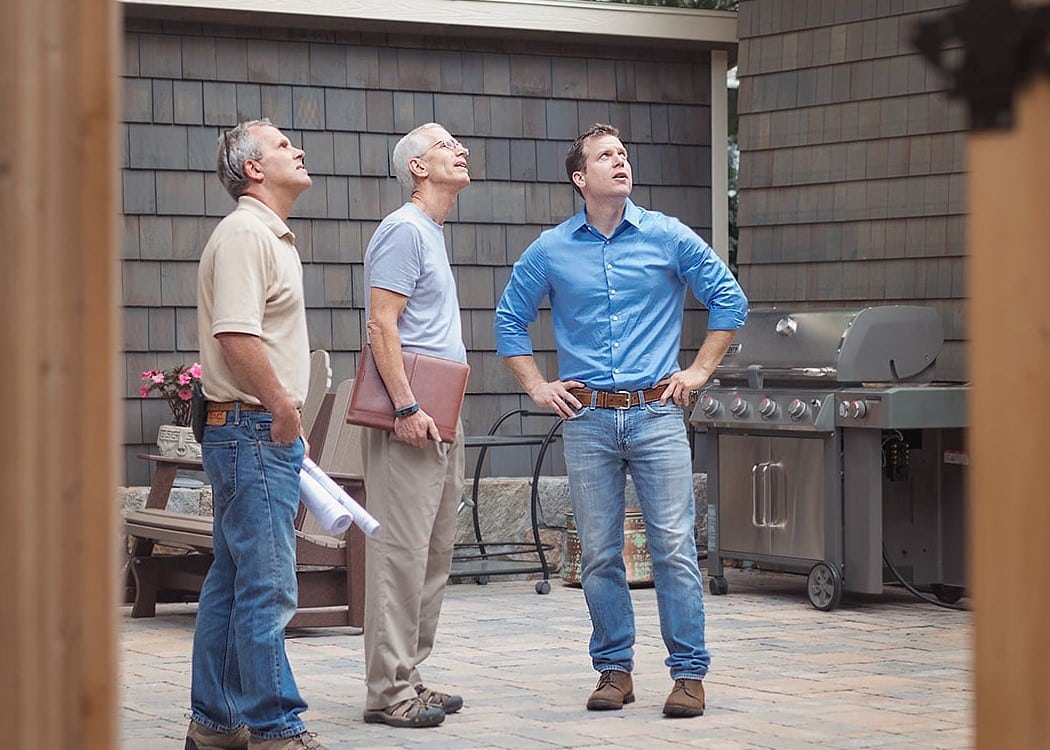 BPC's Team Approach to Designing and Building Green
A team made up of the homeowners, architect, engineer, and home builder. For a green home to be truly green and deliver the benefits of a green home, the home builder must be an expert in green building. If the architect is not also an expert in green building design, they must work in close concert with the green builder. In fact, it is generally a good idea to have a builder and architect work closely together on any custom new home or whole house renovation, but especially for a green home.
The Homeowners who desire to enjoy the benefits of a green home have a team that consists of them plus their financial adviser or banker, CPA, attorney and, at times, their children or other family members.
The Architect will normally have a team that includes architects, draftsmen, engineers, product and materials specification experts, and sometimes interior designers.
The Home Builder will have a team that typically includes project planners, project managers, various skilled building trades (sometimes on staff, many times as subcontractors), and sometimes also designers, engineers, product, and materials specifications experts, etc.
How BPC Works with Homeowners and Their Architects
BPC Green Builders works with your architect regardless of their expertise in designing green homes. In all cases, it is important for you, as the future homeowner, your architect, and BPC to work together as a team from the project's inception.
On all projects, we provide specialized information, the benefit of our decades of experience building green homes and other specialized green services during the design phase through construction.
For example: We make suggestions to you and your architect for alternate construction approaches and materials that would allow you to build your home and achieve your objectives more cost-effectively. Also, as your project's design progresses, we provide increasingly detailed cost estimates for your home's construction.
Working with Non-Green-Trained Architects
If your architect is not trained and experienced in designing green homes, don't worry. In addition to all the other support and services we provide, BPC will provide your architect the information they need to design your home to meet the green certification standards you chose. We provide critical green building guidance before the design process begins and all the way through design.
We review the green aspects of your home's plans to ensure they comply with the required performance standards which will result in your home getting the green building certification desired.
BPC provides specs and recommendations for building materials, building products, technology, and systems such as heating, ventilation, and cooling (HVAC) systems. We provide the specialized engineering required for a green home, and computer model the home's energy performance so it will comply with the selected green standards.
Working with Green-Trained Architects
If your architect is an expert in green home design, the project is off to a good start. And your architect will understand why BPC is still needed from the beginning of the project. Your architect will appreciate the value of using a builder with decades of experience building award-winning projects that have been green certified.
As the home's performance standards and certification objectives are being established, BPC provides you the benefit of our decades of experience to assure the standard you select will deliver the benefits you desire. As design progresses, we may be able to suggest alternative options for construction approaches and materials that can make your home more cost-effectively green. We also know what works best in theory vs. what works best in the field.
Don't Have an Architect for Your Project?
Some of BPC's clients don't have an architect in mind for their project and some are uncertain what they should be looking for. If this is the case, BPC is happy to recommend local architects we have worked with and believe will be a good fit for your project.