Your Choice of Home Design and Construction Approaches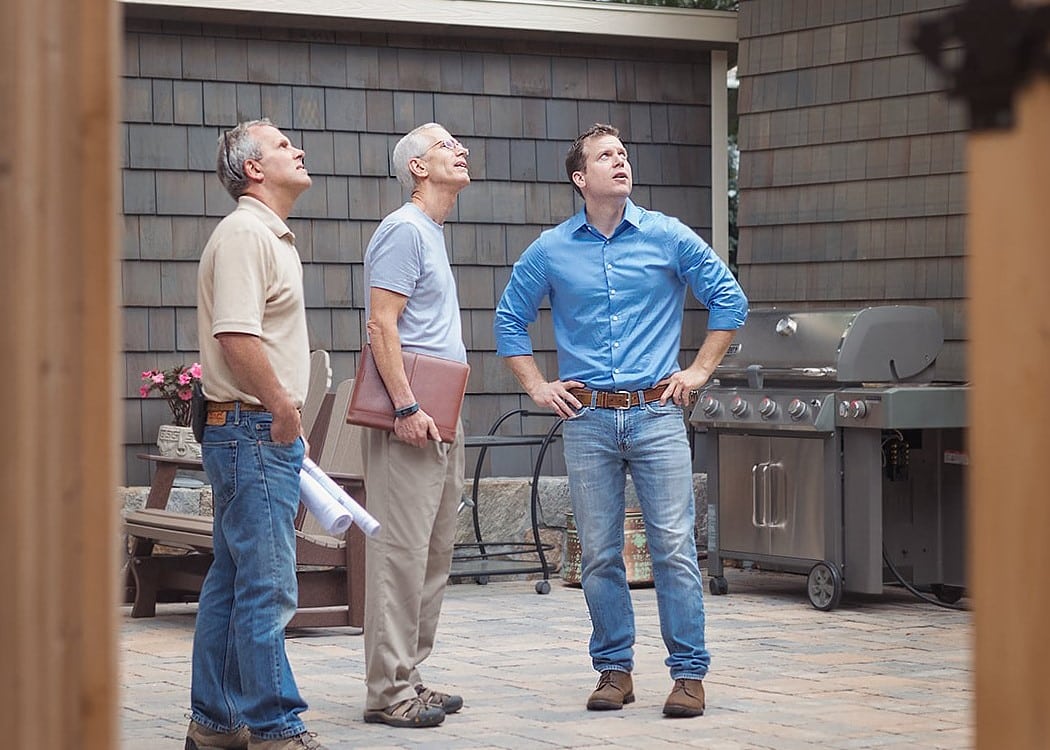 A Team Approach to Designing and Building Green
A team made up of the homeowner, architect, engineer, and home builder. For a green home to be truly green and deliver the benefits of a green home, the home builder must be an expert in green building. If the architect is not also an expert in green building design, they must work in close concert with the green builder. In fact, it is generally a good idea to have a builder and architect work closely together on any custom new home or whole house renovation, but especially for a green home.
The Homeowners who desire to enjoy the benefits of a green home have a team that consists of them plus their financial adviser or banker, CPA, attorney and at times their children or other family members.
The Architect will normally have a team that includes architects, draftsmen, engineers, product and materials specification experts, and sometimes interior designers.
The Home Builder will have a team that typically includes project planners, project managers, various skilled building trades (sometimes on staff, many times as subcontractors), and also sometimes designers, engineers, product and materials specifications experts, etc.
BPC Green Builders Offers Our Clients Options on How the Design and Construction Team is Selected and Operates
Because we have found the following ways are best for our clients, we offer options on how the "Team" is created, organized and managed.
Turnkey Design Build Option: BPC can provide everything you need for your project from site selection support, concept and architectural design to planning, construction, project management, and completion. Learn more about our Design Build option…
Working with Your Non-Green Architect: We can work with an architect selected by our clients, even if they are not trained to design a green home. When brought in at the start of the project we can work with you and your architect to make sure the design is compatible with green building strategies and then we can engineer, manage and build the home.
Working with Your Green Architect: If your architect is an expert in green home design, we can team with them as well. It's usually best we do so from the start, but we can join the project mid-design or after the design is completed to build the home.
Expert Consultation: We provide exceptional green home building and home performance engineering expertise for any project we are involved with. Sometimes our role is working with a homeowner prior to their final decision to build green, sometimes after. Sometimes they are working with an architect of their choosing and BPC is the builder. We sometimes consult on projects being designed and built by other firms outside our normal service area. We also provide building performance assessments and engineering. Our staff is occasionally called on to be expert witnesses in legal matters.
Working for An Architect or their Clients: We can team with an architect to provide their clients the best green building consultation, engineering, system, and product selection and green construction and project management. Generally, we contract with the homeowner separately and are brought in as the recommended builder.
Other Option: Design/Bid

(not recommended)
Design/Bid Approach: There is another option, the design/bid (as opposed to design build) approach. However, we only mention this approach for the sake of thoroughness. We wouldn't recommend taking this road for your project. For the reasons why, refer to our blog post, "Design/Bid – A Problematic Way to Build a Home"
Thinking about building a green home?