News From BPC Green Builders
October 2017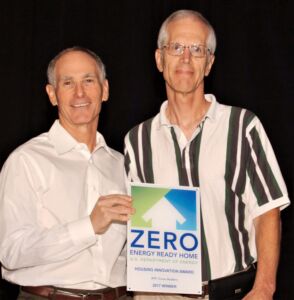 BPC Green Builders Inc. received its fourth DOE Housing Innovation Award in five years. The award category was "Custom Homes for Buyers". Built in Clinton, NY the winning custom green home is a three-bedroom, 2-1/2 bath, 3,600 square foot, high-performance, energy-efficient home that meets or exceeds all of DOE's Zero Energy Ready Home program requirements.
The U.S. Department of Energy's Housing Innovation Awards recognize the country's most innovative residential builders. Builders who are taking US housing to the next level of high performance, energy efficient homes by using DOE's Zero Energy Ready Home program.
In 2015, BPC Green Builders won the Housing Innovation Award's Grand Prize for all categories. BPC also won in 2013 and 2014 for custom homes. 2013 was the first year DOE's Housing Innovation Awards were given.
June 2016
BPC Earns USGBC LEED Homes Award for 2015 "Outstanding Single-Family Project"
On June 28, 2016 the U.S. Green Building Council (USGBC) announced that the single family Taft School Faculty Home, which BPC Green Builders built and Trillium Architects designed, in Watertown, Connecticut was awarded the national 2015 LEED Homes Award for "Outstanding Single-Family Project".
According to USGBC the annual LEED Homes Award "recognizes projects, architects, developers and homebuilders who have demonstrated outstanding leadership and innovation in the residential green building marketplace".
The home is Connecticut's first building of any kind to earn the LEED Platinum certification under the Building Design and Construction rating system for homes using the new and more stringent LEED v4 requirements.
Because of the exceptional energy efficiency of this home, it is both PHIUS Passive House Certified and DOE Zero Energy Ready Home Certified. With its HERS (Home Energy Rating System) score of -17 this home is not only a true Net Zero Home, it actually generates more power than it uses.
A HERS score of 100 represents the amount of energy a typical house of its size would use. Homes with HERS scores of 0 (zero) put back into the power grid as much energy as they use, making them homes that use a "net zero" amount of energy from the grid. The energy they put back into the grid is clean energy, typically from solar panels.
This home's -17 HERS score means it generates enough additional clean energy to provide 17% of the power a non-green home would use. (In this area, the power company pays a fee for the power the home puts into the grid.)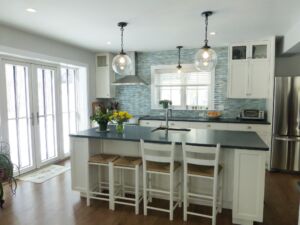 But the home also provides more benefits. As a high-performance green home, this residence also serves as a learning lab and teaching tool for the school's science students. The students monitor and study the home's use of energy. The home also has a vegetable garden, chickens and a rain garden, making it even a better example of a comprehensive sustainable home. A model of what can be.
This home has also earned certifications including:
• Energy Star Certified
• Indoor Air Quality Plus Certified
• LEED for Homes Platinum Certified
• Passive House Certified
• Zero Energy Ready Home Certified
• Water Sense Certified
And it has earned other awards including:
• US DOE Housing Innovation Award 2015 – Grand Prize Winner (article)
• Connecticut Zero Energy Challenge 2014 – 3rd place and Honorable Mention
Thinking about building a green home?